Latest News
All these bees at the bottom?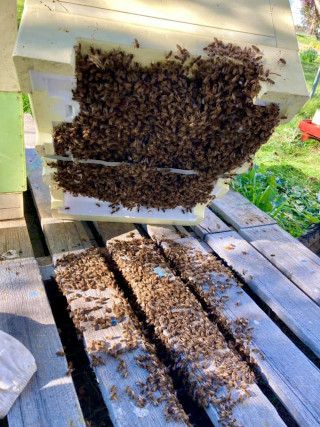 The mystery continues!?
Two poly hives have lots of bees under the bottom board. We checked the two busiest hives and both didn't have a single swarm cell.
The queen looked great and fat like a laying queen should. The first and second pic shows the huge number of bees under a third hive.
We boxed the bees in a nuc from another bottom board. The third pic shows nosema type stains in the Back of hive where the bees were clustering.
So I can think of two options.
Due to congestion, some of the bees connected on the outside through the mesh. This hive was supered. Just in case they want to come back in.
A swarm from a local tree?
Your thoughts?  See comments and more pictures on our facebook page.
Swarm Collection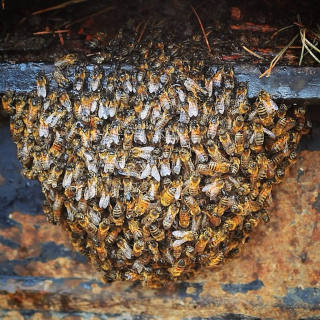 It's now time to register your interest in becoming part of BRB's Swarm Collection Team for the 21-22 season.
You will all need to register via the Members' page of the website and submit your details. After the training, the coordinator will set up a Messenger group and add those who have registered and done the training so that they can respond quickly if interested.
The training will be via Zoom and is scheduled for 7:30- 8:30pm on August 30th.  Please make yourself available.